FAMILY RAFT RIDE
More Hooah! Oorah! Hooyah! And Woooo hoooooo, coming for the summer of 2018!
Coming in 2018, Ocean Breeze Waterpark will add a massive family raft ride to its unique collection of slides and attractions, for the summer of 2018.
"We are especially excited about this star spangled addition, because families will have the opportunity to experience the ride, together," shared General Manager, Brian Baker. "With 10 main turns varying from 90 to 360 degrees we expect this ride to not only be a shared experience, but an exhilarating one."
THE RIDE:
Beginning atop a towering 70 foot high platform, riders can board four person tubes to experience an unforgettable adventure together. This mega-tube serpentine raft ride will blast visitors into a dark, enclosed tunnel with a series of unpredictable twists and turns, breathtaking drops, and back-to-back curves. The raft will then shoot through the tunnel opening, splash through the wildly fun  s-shaped waterway while catching some major hang time along high bank walls before hitting splashdown in the catch pool.
"We will capture a bit of Virginia military spirit with the ride theming and look forward to announcing the name soon," said Baker.
The spectacular red and blue addition will unfurl over the classic waterpark attraction Jungle Falls and sit adjacent to the thrill ride, The Hurricane. The tower will feature a tube conveyor lift to transport visitor's tubes to the top of the attraction.
The patriotic red, white and blue raft ride will target thrill seekers with a platform that towers 70 feet high. The conveyor lift to the starting point will build excitement for riders, but there is no need to fear going alone since the ride will feature four-person tubes. Bring friends and family to experience the fun as a group.
The slide will be exhilarating, blasting riders through tunnels – flipping and throwing them into tangles and turns. The park says the raft will shoot through dark, enclosed tubes with the surprise of breathtaking drops.
The American military spirit will be captured in this star-spangled slide. The colors are decided but the actual design and name of the ride are still in the works. Stay on your toes for announcements on this expansions progress.
Development will be handled by ProSlide Technology, an innovative leader in the manufacturing of award-winning water park thrill rides. The company has installed thousands of slides in hundreds of waterparks across the world including Ocean Breeze sister parks: Wet 'n' Wild SplashTown in Texas, Nashville Shores in Tennessee, and Rapids Water Park in Florida.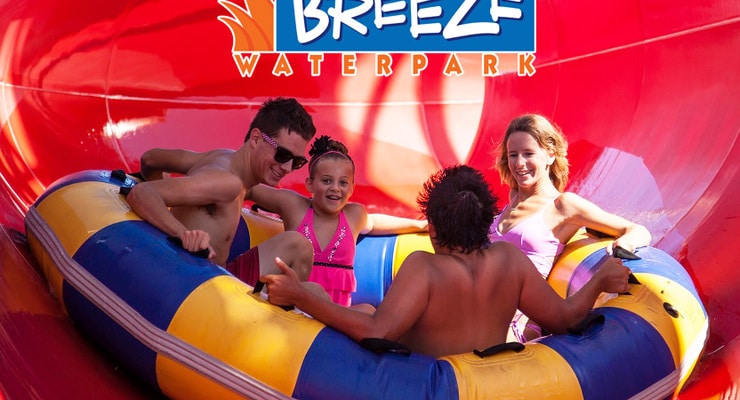 Ocean Breeze Waterpark Information
The addition of the family raft ride represents another multi-million dollar expansion for Ocean Breeze Waterpark. Since 2011, when the property was purchased by an investor group led by former Six Flags CEO, Kieran Burke, Ocean Breeze Waterpark has undergone a dramatic transformation with a number of improvements, the introduction of new options and a broadened variety of attractions including, Neptune's Revenge a monster four slide complex and the Adventure River, a quarter mile of wave tubing fun.
Ocean Breeze Waterpark also utilizes the property to host special events and private gatherings of 40 to 4000. The annual Girl Scout cookie drop is hosted in the parking lot in February and this summer Ocean Breeze partnered with Dogs Deserve Better for the first annual day at the park for canines, Wags n' Waves.
Season Passes – Get One Now!
Ocean Breeze Waterpark is offers season passes at discount prices if purchased by December 31st. Purchasers can utilize a five month payment plan to spread the cost of their pass and add exclusive season pass holder perks like the meal and locker plan. With payments as low as $12 per month, passes can be purchased now and enjoyed for over 100 days next summer.
A season pass includes unlimited visits all summer, exclusive extended hours, bring a friend discounts and savings within the park. Season passes can be purchased online at www.oceanbreezewaterpark.com, by visiting the waterpark offices at 849 General Booth Boulevard Monday through Friday between 9 am and 5 pm or via phone at (757) 422-4444.
BUY A PASS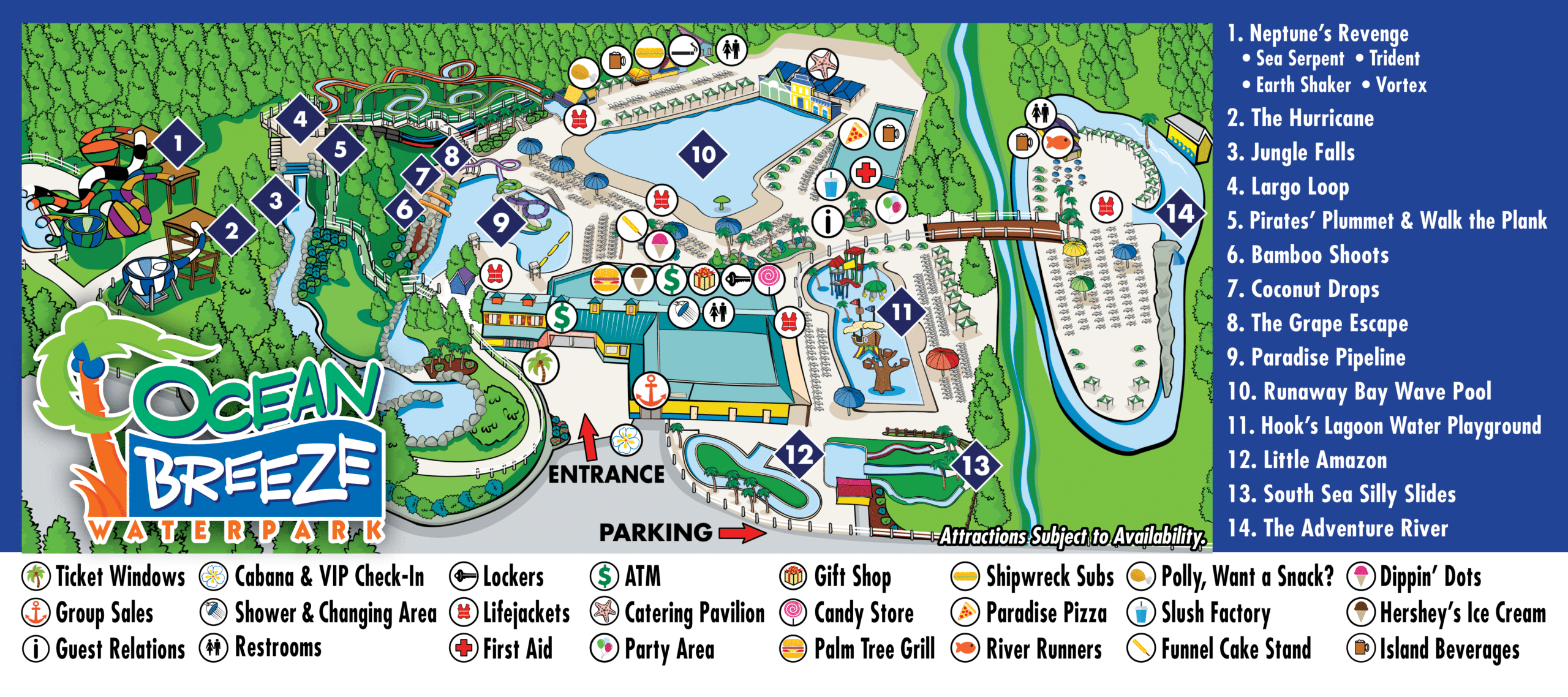 About Ocean Breeze Waterpark:
Ocean Breeze Waterpark is only 2 miles south of the Virginia Beach Oceanfront and the only full scale water park in Hampton Roads. A visit to this island themed destination offers more smiles per gallon with over 30 water slides and attractions.
With free parking, free inner tubes, free sunscreen and famous locally for their 50 foot smiling gorilla ambassador, Hugh Mongous.