Few actions can make your relationship stronger and promote increased romance than traveling. Experiencing the world anew for the first time and breaking out of your day-to-day routine with someone you care about are benefits that come from traveling with someone you love. We will show you the ways that traveling can strengthen your existing romances.
Travel Has Long-Term Benefits for Couples
When you are creating a relationship with somebody, you have to lay the groundwork that is going to last for years to come. Although it may not seem like it, frequently traveling with your partner and going to new places can be just what your relationship needs to stay interesting and be successful. Every time you go on a travel adventure with your romantic partner, you will refresh the relationship. You are effectively breaking the mold of your lives, experiencing new things, and then settling back into a stronger relationship when you come home and unpack. So, if you are starting out a relationship with someone, it is a good idea to find a partner that is amenable to the idea of frequently traveling and exposing yourself to new things. Using online dating services allows you to quickly seek partners interested in traveling and accept the idea that such excursions will have a long-term benefit on a couple throughout their relationship. You might meet someone obsessed with touring all of Europe or going to entirely new places in Asia. Using the dating services available today, it's completely possible to find someone that has the same wanderlust, culture, romantic desire, and outlook as you!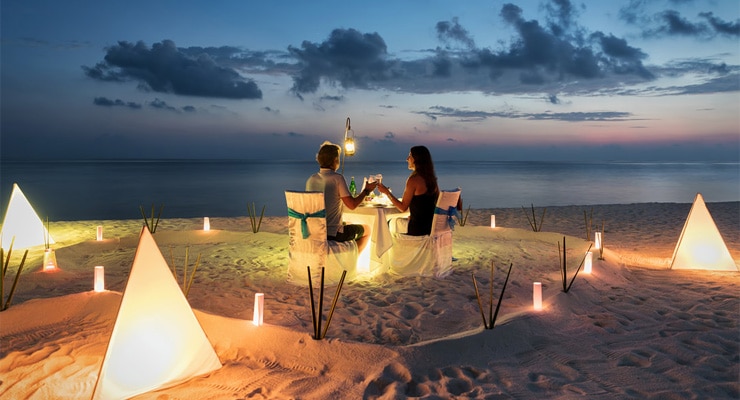 Travel Helps Build and Maintain Relationships
When we consider how travel helps to build and maintain relationships, we need to look at very specific factors. What is it about traveling that makes relationships work? Traveling ensures that you and your partner learn to rely on one another. You might be the only people speaking your language in an entire town if you go far enough off the beaten path. In that scenario, it's you and your partner trying to figure out your travel arrangements and relying on each other for support. Since you are both trying to build a major connection with each other, you will strengthen your bond. After all, needing someone and having them come through shows that you can rely on them and vice versa. Over time, that sense of support will contribute to the relationship and maintain it since you will have proof that your partner is capable of standing by your side in difficult situations.
Travel Ignites a Romance and Deepens Intimacy
Learning about your partner on a deep level is a benefit that comes from traveling with another person for a long time. That sense of intimacy where you know a person better than anyone else is easily inspired when traveling to other places. Interestingly, traveling will teach you everything you need to know about another person. For one thing, traveling with someone means that you will go somewhere that you and your partner enjoy. The choice of destination can teach you a lot about what your partner enjoys and what they hope to get out of life. For example, if your partner likes the idea of going to live music on the beach all summer long, then you will get the idea that they value the sense of freedom, openness, and themes that are prevalent in the music that they listen to. You can go even further into the idea that you will get to know how your partner reacts when you're not around or when they're at their lowest point. You will see how they act when they are tired, annoyed from missing an exit, or when something goes wrong on the trip. That way, you can evaluate whether or not their true personality, not just the one that shows up for dates, meshes with your desires and expectations. Of course, we have to consider the way that travel can bolster intimacy in other ways. People flock to romantic locations by the beach, in famous cities, or tropical areas because they want to feel the passion those places inspire. Being in a new setting can feel refreshing for long-term couples, offering them the ability to intimately interact with each other and feel a sense of newness instead of the same old thing with their partner. Seeing the world can inspire this part of your life, too.
Traveling with your romantic partner is one of the most beautiful things you can do together. Not only can you learn about one another, but you will also learn how you can be helpful to them. Traveling is a fun, adventurous experience that every couple should indulge in when they want to plumb the depths of their partner's personality.