Virginia is one of the best cities for lovers. Whether it's a quiet date in a gorgeous park, a candlelit dinner, or a walk in the mountains, this city has many options for a romantic getaway. Therefore, it is not surprising that Virginia Beach has been recognized as one of the most romantic cities in the United States. But sometimes lonely people living in the most romantic cities cannot find a soulmate. If single people want to have a great time and show each other the best places in the city, they first need to find each other. Singles can meet a partner on a popular dating service, there are many of them on the internet and Together2night has become a great meeting place for people. The site is easy and effective to use. This is a great service where you can meet attractive singles ready for real dates and relationships. The safety of members is a top priority. In Virginia Beach, you will find hundreds of singles online to have fun with. This is a service that connects you with people you can meet in real life. Online dating is one of the most popular ways to meet a new partner with common interests.
The platform provides many useful tools to help singles find love. This service is a breath of fresh air for people who are tired of being alone online and want to meet someone in real life. You can't even imagine how many adult singles in your area want to find like-minded people. Start chatting and invite your potential partner on an exciting date. Virginia Beach offers many romantic destinations for the best dates. Whether you want to create a special experience for your partner or start a new love story, these wonderful places should be on your list as some of the most romantic places in Virginia Beach.
Enjoy art in Virginia Beach
The Chrysler Art Museum has incredible art collections. This is a great romantic date spot. Stroll through the galleries of the museum, find amazing exhibits and discuss them with each other. This museum is known for its large collection of glass art. You will also have a great opportunity to observe the work of artists in the glass studio. One of the most amazing and well-known works on display is Dale Chihuly's chandelier, a 16-foot glass artwork.
Take a cruise in the Spirit of Norfolk
This cruise is very popular for romantic dates. Take your partner on an exciting Hampton Roads cruise. Board The Spirit of Norfolk and spend your evening enjoying a fantastic view of the Elizabeth River. There you will find a delicious candlelit dinner and dance all night long to your favorite music. If you prefer a quiet, romantic date, you can relax on the outdoor patio at The Spirit of Norfolk. This is a great idea for any date.
Go Whale Watching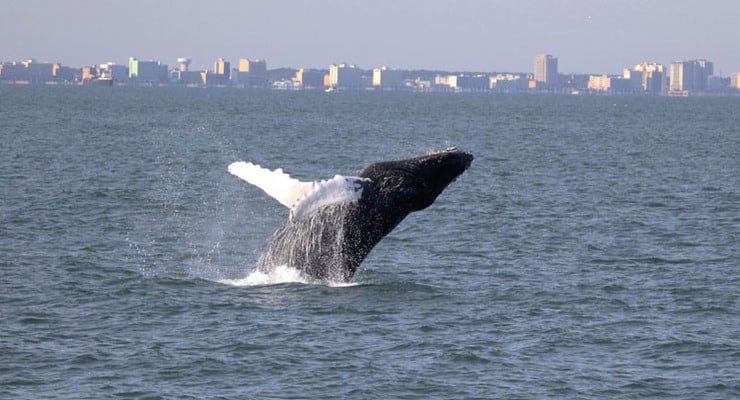 Many tourists visit Virginia Beach to relax on the beach and at local restaurants, but not everyone has the chance to enjoy whale watching in Virginia Beach. Invite your partner to relax and watch the beautiful wildlife.
Would your soulmate dream of seeing whales in their natural habitat? You have a great opportunity to give your partner unforgettable emotions. Take a boat trip across the Atlantic Ocean and have a chance to witness huge humpback whales going about their daily routine while you admire them from afar.
Walk Along The Virginia Beach Waterfront
For lovers of beautiful views, this place could really be special. The Virginia Beach waterfront is the heart and soul of the state. Here couples can find many interesting activities and activities. Stretching three miles along the oceanfront, the promenade is a vibrant mix of shopping, dining, entertainment, and a relaxed romantic atmosphere. Spend a romantic evening on the beach, enjoy the crashing waves, pure air, and stunning sunset. Virginia Beach has one of the most romantic beaches where you can have a great time with your partner or the person you first asked out on a date.
Discover the Blue Ridge Mountains
Anyone who has heard or seen the Blue Ridge Mountains already knows that this is an amazing place. It is a great chance to partner with Rolling Hills and the Shenandoah Valley, with wonderful natural surroundings. You can reach the peaks and spend a romantic time enjoying the surrounding views. The best thing about West Virginia is that there are so many ways to admire the beautiful landscape. Walking and exploring this wonderful place is one of the best ways to immerse yourself in the surrounding nature fully. If you don't like walking, driving a car is also a great way to feel like you are hovering above the trees. Skyline Drive is the most scenic trail that takes you to the beautiful Shenandoah National Park. Travel and enjoy the surrounding mountain views. It is a great way to surprise your soul mate and have a romantic time.
Virginia Beach is known as a romantic city. Meet potential partners on the dating site and explore the most romantic places. You can use these ideas for a romantic date and make your meeting more memorable.