Earning money while spending time at the beach sounds like a dream come true for most of us. If you work as a freelancer who only needs their laptop and an internet connection to do your job, then setting up in beachside cafe with a cold drink and stunning views is probably nothing new to you. However, for those who are not quite so lucky, you will be pleased to know that there are other ways you can earn some extra cash while hanging out by the ocean. Here are eight suggestions to get you started.
1.    GET A JOB AT A BEACH CAFÉ
You might not be able to use a beach cafe as your office, but you could try getting a job there directly instead. Whether it is making food, pouring drinks or waiting tables, the sand and sea will be right there when you finish your shift.
2.    WEAR PROMO CLOTHING
Nowadays lots of businesses are turning to branding agencies such as anthembranding.com to design custom promotional clothing and accessories as a form of advertising and to raise brand awareness. If you are lucky you might be able to earn some extra money wearing some of this apparel out and about on the beach.
3.    BECOME A SURFING INSTRUCTOR
If you are a passionate and skilled surfer, why not share that talent by teaching others? You will get to do what you love all day and get paid for it – it does not get much better than that! Other options include teaching stand-up paddle-boarding, windsurfing or kitesurfing.
4.    RENT OUT BEACH EQUIPMENT
At a popular spot like Virginia Beach there are always people wanting to rent beach chairs, umbrellas, boogie boards and other equipment. Working at one of these facilities is a great opportunity to spend the day on the sand and get paid while you are there.
5.    WORK AS A LIFEGUARD
For those who are strong swimmers, have excellent focus, quick reaction times, and the ability to stay calm in an emergency, training to be a beach lifeguard could be ideal. Not only do you get to spend all day on the beach in the sun, you might also save lives!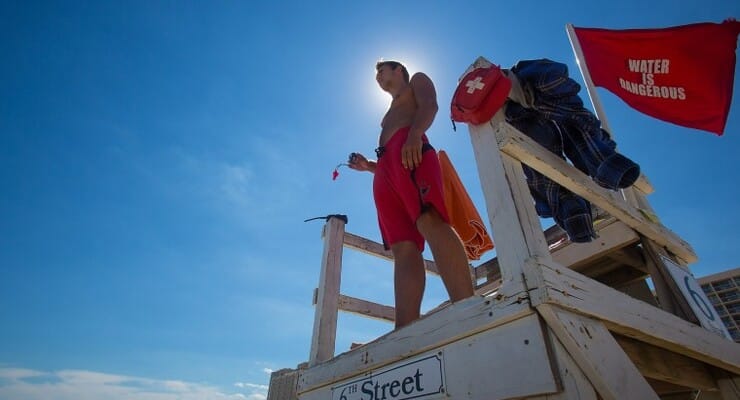 6.    WALK OTHER PEOPLE'S DOGS
If you are an animal lover, why not consider becoming a dog walker? You get to spend time with other people's furry friends – which is perfect if you cannot have your own – and take them along the beach or the boardwalk for some exercise.
7.    TEACH A FITNESS CLASS
Whether you want to lead a high intensity aerobics class or a chilled-out yoga session, the beach can be the perfect place to work up a sweat. So, if you are a qualified instructor, consider moving out of the studio and onto the sand.
8.    TAKE PHOTOS TO SELL ONLINE
Virginia Beach is a gorgeous location, and those with a keen eye for photography might find they can make some cash from stock image sites by selling images online. Not only do you get to spend your time at the beach productively, you can also share its beauty with the world!