Rockfish Boardwalk Bar and Seagrill
1601 Atlantic Avenue Virginia Beach, VA 23451
757-213-7625
Price: $$$$
Hours:
Monday 11:00 am – 10:00 pm
Region: Oceanfront Central (11-25), Virginia Beach
Cuisines: Seafood
Description
Crabcakes, fresh seafood, oceanside dining on a private patio, a swinging bar and one of the greatest collection of Beatles memorabilia in the world make RockFish Boardwalk Bar and Seagrill the place to go for oceanfront dining. The view is second to none...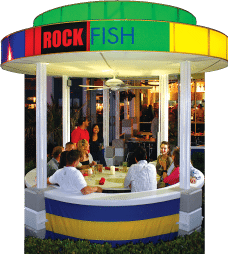 Enjoy the tasty delights of this oceanfront sea grill while you check out some amazing authentic Beatles memorabilia! ...

A Closer Look
Alcohol
Bar
Beer or Wine Available
Dinner
Lunch
Parking Available
---
Coupons for Rockfish Boardwalk Bar and Seagrill
1601 Atlantic Avenue Virginia Beach, VA 23451
Rockfish Boardwalk Bar and Seagrill
Came here three years ago and received the same rockstar service when I returned. The menu changed drastically but it was stellar. The only reason why I took away one star because the house chips just looked like Ruffles with Old Bay seasoning. While i still ate them, I was expecting something that matched the rest of my meal. Definitely not crowded during the weekday. Beautiful scenery right on the boardwalk. Love the Beatles' themed decor.
Newly remodeled - and looks great. Love the ocean view sitting out on the boardwalk patio. The new menu featuring fresh seafood as well as burgers and we heard the best French Fries at the beach (including fries smothered in cheese and crab meat). Personally, my favorite is their fried shrimp with cocktail sauce with extra 'horsey' kick. So good. Great selection of beer & wine.