Dolphin Run Condominiums
303 Atlantic Ave Virginia Beach, VA 23451
757- 425-6166
Region: Oceanfront South (1-10), Virginia Beach
Condo Details
Number of Units/Rooms: 52
Types of Units/Rooms:
1 Bedroom
2 Bedroom
3 Bedroom
Capacity of Unit/Room: 8
Description
Dolphin Run offers luxurious 1, 2, and 3 bedroom condominiums for rent. All condominiums are completely furnished*. Each condominium features a fully equipped kitchen, including microwave ovens and full size appliances. All condominiums have internet Wi-Fi access and cable with HBO..
Dolphin Run's large contemporary lobby overlooks the boardwalk with incredible views of the beach and oceanfront. Relax and take in the view, or find a quiet spot to read or utilize the Wi-Fi on your laptop or tablet. We also offer on-site reserved parking, two elevators, laundry facilities and 24-hour security. With our rooftop sundeck, indoor heated pool and fitness center, there is always something to keep you comfortable and entertained. We are located close to many local attractions, fine restaurants, shopping malls, tennis courts, golf courses, and great fishing. Colonial Williamsburg, Busch Gardens, and Water Country USA are only a short drive away.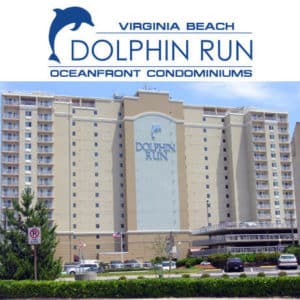 Dolphin Run is located at the south end of the oceanfront and is a fantastic place to stay! All of the comforts of home are here!

Amenities
24 Hour Front Desk
Concierge
Dishwasher
Exercise Room
Fitness Center
Full Kitchen
Indoor Pool
Iron in Room
Kid/Family Friendly
Laundry
Microwave
Oceanfront
Oceanfront View
Refrigerator in Condo
Refrigerator in Room
Wheelchair Accessible
Wi-Fi Access in Room
---
Coupons for Dolphin Run Condominiums
303 Atlantic Ave Virginia Beach, VA 23451
Dolphin Run Condominiums
Great place for ocean side vacations.
Beautiful pre-finished wood floors with Bathroom tile floor. Nice artful accoutrements in all rooms.
Bathrooms need a facelift particularly the shower controls and tub as well as bathroom vanities. But these are relatively small points. One larger issue in this particular condo is the lack of a larger flat screen TV in the living room. A 32 inch TV just doesn't cut it. Whatever the excuse for having a large TV in the bedroom and a small in the main living space would be an insult to one's intelligence.
Other then these small issues this is a nice place to be on the ocean front living at the south end of Virginia Beach. .......EC
Very nice option for big family. Nice units and location. Bus is right outside condo, lots of nice places to eat. Definitely would stay again.
The view was amazing from our place....the security was great no worries about safety. Located within walking distance of restaurants and the beach was our front yard!