Casby's Kitchen & Tap
1336 N Great Neck Rd Virginia Beach, VA 23454
(757) 481-1600
Price: $$$$
Region: Great Neck Corridor, Virginia Beach
Cuisines: American
Description
Casby's Kitchen & Tap is a neighborhood restaurant and tavern that serves New American food, local craft beer,
unique small vintage wines and handcrafted cocktails. Everything you eat and drink is made with care from the best ingredients available.
A favorite neighborhood Restaurant & Tavern serving American Food, Local Craft Beer, Unique Small Vintage Wines & Handcrafted Cocktails.
They are located in Virginia Beach, right off Great Neck Road. Take a drive away from the hectic oceanfront area and dine on some of the best food and drinks in the area.
AND don't forget...
Sunday brunch served from 9am-3pm. All champagne cocktails and bloody Mary's are $3. Happy hour all day long!!! Live music on the patio!
Downloads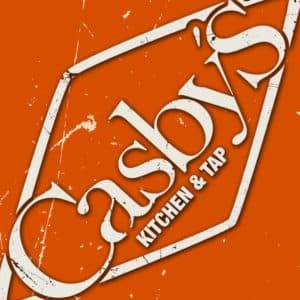 Get away from the hustle and bustle of the resort area for an evening at one of the area's favorite new American taverns!

A Closer Look
Alcohol
Bar
Dinner
Good For Groups
Good For Kids
Healthy Menu Options
Kids Menu Options
Lunch
Parking Available
Takeout
Wheelchair Access
START DATE / TIME
PERFORMER
GENRE
Acoustic, Acoustic Rock, Alternative Rock, Country, Folk Rock, R&B, Variety
---
Coupons for Casby's Kitchen & Tap
1336 N Great Neck Rd Virginia Beach, VA 23454
Casby's Kitchen & Tap
The staff was amazing. One of the best waiters I have ever had. He was very knowledgeable in all areas of the restaurant. The food was good as well.
The beer is excellent, the food is superb, and the ambiance is pleasing. If you are looking for a great meal, look no further, Casey's Kitchen is a great find. Eat indoors or choose the patio, either venue is a winner. Our waiter, Ethan, was knowledgeable and helpful, adapting our plates to our specific requests and watching enough to anticipate our needs without being creepy. You kniw the creepy type, always up in your business with fake cheerfulness fishing for attention tips. Ethan was the professional making sure we were attended but not smothered. Well done Ethan! Do not come here expecting food coma quantities, but enjoy the artistic flare the plates provide with quality eats. This is quality over quantity, but we were quite full. We will be back.
Good food and drink menu. Unfortunately, was on the patio for a beautiful evening meal, then a dozen smokers went to the back corner smoking section and ruined the whole patio experience.