Asphalt Jungle
About the Band
Category:
Band
Music Genre:
80's, 80's Cover Band, 90's, Alternative, Alternative Rock, Blues, Classic Rock, Country, Cover, Dance, New Country, Variety
Welcome to the Jungle of The Asphalt Scene!
Asphalt Jungle is a high energy musical experience that will get your party started and keep it going all night. With a versatile and eclectic song list, Asphalt Jungle will surely please every guest at every venue. Seasoned musicians with top shelf talent and stage presence will enhance every event they perform at. Solid sound and light show engineered with every engagement will keep you at the edge of seat in the Asphalt Jungle.
MEMBERS
Steven Parker – Lead Vocals / Harmonica
Stephen Bittner – Guitar / Vocals
Pete Johnson – Bass / Vocals
Mike Hackworth – Drums / Percussion / Vocals
GENRE
Variety / Modern Dance / Rock / Funk / Alternative / Modern Country / Blues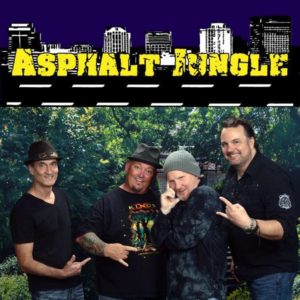 or call 757-460-9000

Where They Are Playing
Oh Snap! We do not know of any live music events where this band is playing.