Eurasia
960 Laskin Rd Virginia Beach, VA 23451
757-422-0184
Price: $$$$
Hours:
MON-THU 11AM - 930PM
FRI-SAT 11AM - 10PM
SUN 11AM - 9PM
Region: Oceanfront North (26-40), Virginia Beach
Cuisines: American
Description
Eurasia Cafe & Wine Bar, located in Virginia Beach, VA on Laskin Road, features fun and creative cuisine with an amazing atmosphere. Our seasonal menu features the freshest fruits and vegetables from local independent farmers. We also offer a "New World" inspired wine list as well as an excellent selection of microbrews. We also have a private dining area that can accomodate 28 people for rehearsal dinners, meetings, and intimate dinners.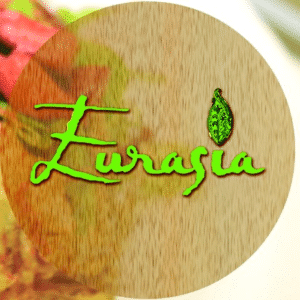 Great portions and a wine selection that is unbelievable. Some of the best food in Virginia Beach. Period!

A Closer Look
Alcohol
Bar
Beer or Wine Available
Dinner
Good For Groups
Healthy Menu Options
Parking Available
Reservations
---
Coupons for Eurasia
960 Laskin Rd Virginia Beach, VA 23451
Eurasia
Excellent food, great staff. Beef carpaccio, the steak and eggs and the deviled eggs are just a few of my favorites. They make my drink before I ask and always make you feel welcome.
Crowded on a Friday rainy day! It must be good. Good thing I had reservations and was able to get same day booking!
This restaurant is directly across the street from beach from Beach Movie Bistro in the same plaza as Heritage beside Anytime Fitness.
The menu selections rotate a lot. They have many specials to offer, like for this visit it's soft shell crab, and salmon tartare.
For appetizer..That beef Carpaccio was OMG good! It was such a tease because sharing it with my husband it went quick! Love loved the eggsalad that came with it. Never did I think egg salad and Carpaccio would ever go together. The egg salad had truffle oil and a sprinkle of lava salt.
The shrimp and grits is a classic and it has been on the menu for over 10 years.. so I knew I wasn't going to pass off on having it.
Let me tell you when I say that this is the best shrimp and grits IVE EVER had in my life. I AM NOT LIEING!! I felt guilty pleasure all over. Those grits though, it was infused with creamy goodness enriched with andouille sausage and red peppers. I never ate so slow in my life! Each bite was orgasmic and I needed to savor the flavor as it melted in my mouth...
I had to share with my husband because I felt so bad that he got a salmon dish, nothing compared to what I had.. our waiter zack had told us he had eaten the shrimp and grits for an entire month since he began working here. Everybody could rave about it!
Dessert was amazing as well. The skillet cookie and vanilla ice cream.. made me feel like a kid again, homey gooey goodness! i felt like comfort food to the max.. but more classy and refined for a casual date night, business dinner, or special occasion.
This visit and dinner was my highlight of the day! The best dinner I've had in a while!
Wine was fantastic(you won't regret buying a bottle) with quality wine and reasonable prices that beat the competitors; this is a place to go..
Must go on happy hour from 4-6pm next time.
5 stars to the A+ service, food, taste and overall experience!
Zach was a helpful, insightful waiter and Jessica was a great host/personal photographer. Thanks Eurasia, you made my 8th year anniversary worth while!
Best food and the staff makes every experience great!!