Autumn in the Forest – Forest Bathing Virginia Beach
Date/Time
Venue/Location
Oct 26
10:00am - 11:30am

THIS SPECIFIC EVENT INSTANCE EITHER
DOESN'T EXIST OR HAS ALREADY OCCURRED
Ticketing Information:
$15.00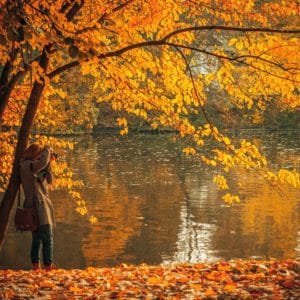 ---
THIS EVENT HAS ALREADY OCCURRED.
IT ENDED ON October 26, 2019 11:30 am
If this is a recurring event, then we might not have the new upcoming dates in our system. Please check back later or make sure that this event has not changed names or ended permanently.
EVENT DESCRIPTION
The holiday season is soon upon us, and with it comes more stress, more pressure, and more anxiety. Forest bathing is proven to help combat all this through engaging with the natural world.
Join nature guide, Lenora, in the crisp, autumnal air and beautiful changing colors of the Lake Smith Natural Area to learn how to engage your senses and connect to the natural world to relieve your stress and anxiety.
---
---
EVENT SPECIAL NOTICES AND INFORMATION
No pets Not suitable for young children.
PHOTOS