Ascendio: A Magical Climb
THERE ARE NO EVENT DATES FOR THIS EVENT. THE EVENT HAS EITHER ALREADY OCCURED, OR WE DO NOT HAVE ANY UPCOMING DATES FOR THE EVENT.
Ticketing Information:
$42 per climber, ages 5 and older, reservations recommended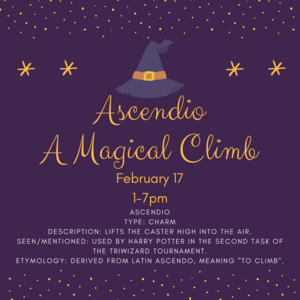 ---
EVENT DESCRIPTION
Witches, wizards, and muggles too, join us for a magical day at The Adventure Park! From 1pm-7pm we will be combining Potter themes with adventure in the trees!
Climbers will have the opportunity to be sorted into a team that best represents their personality. Are you brave and adventurous like the Hawk? Do you consider yourself patient and loyal like the Sloth? Would your friends describe you resourceful and ambitious like a Bear? Are you more like the Lemur, clever and creative? The four teams will compete for glory and Adventure Park Prizes.
Magical music and lights will fill the trees, costumes encouraged, but please ensure your costume won't interfere with your harness.
Ascendio
Type: Charm
Pronunciation: ah-SEN-dee-oh
Description: Lifts the caster high into the air.
Seen/Mentioned: Used by Harry Potter in the Second Task of the Triwizard Tournament to propel him to the surface of the lake in 1995.
Etymology: Derived from Latin ascendo, meaning "to climb".
**This event is in no way affiliated with the Harry Potter franchise, J.K. Rowling, Warner Bros. Entertainment Inc. and/or any of their affiliates.
---
---
PHOTOS