Something in the Water
Ticketing Information:
3 Day Passes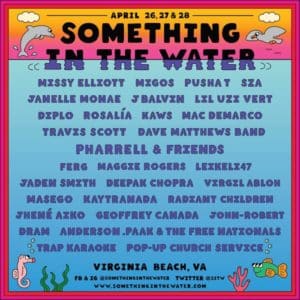 This Event is Produced and Managed by:

Please contact them for specific questions
---
EVENT DESCRIPTION
Musician and producer Pharrell Williams has announced a brand new multi-day festival offering in his hometown of Virginia Beach for this spring, when he will enlist the likes of Dave Matthews Band, Janelle Monáe, Missy Elliott, Travis Scott, Diplo and more to celebrate the culture of Virginia.
The three-day gathering's inaugural event included music from Migos, Mac DeMarco, SZA, Anderson, Paak & The Free Nationals, Pusha T, J Balvin, Lil Uzi Vert, Rosalía, Kaws, Maggie Rogers, Ferg, Jaden Smith, Masego, Usher, Gwen Stefani, Chris Brown, Snoop Dogg, Diddy, and even Jay Z and Beyonce took the stage with Pharrell and Friends. It was a weekend of fun and music like no other.
"Allen Iverson. Missy Elliott. Dave Matthews Band. Ella Fitzgerald. Virginia has been home to some of the most gifted artists, athletes, and scientists to ever live. And it made sense—the people of Virginia are one-of-a-kind: uniquely gritty, bold, and brilliant," said Williams. "For the first time, we are harnessing that energy, bringing the great minds of our time and the biggest brands in the world to this great place, and letting the inspiration flow and well deserved opportunities unfold. Virginia needs this right now and the world will see what we Virginians have known all along: there really is "Something in the Water."
The weekend, showcased Williams working with the Virginia Beach community to give back to his hometown, will also include screenings of Ava Duvernay's Array and Samuel "Blitz" Bazawule's upcoming Netflix movie The Burial of Kojo, plus a pop-up church, Trap Karaoke and more.
ARTIST LINE UP FOR 2020 TO BE DETERMINED
Event Flyer:
---
---
EVENT SPECIAL NOTICES AND INFORMATION
All passes are RFID Wristbands and must be scanned at venue for entry. Wristbands will be sent out three (3) weeks before the event.
Your pass allows for re-entry between the beach stage and convention center
There is no guarantee that there will be passes available at the venue on the day of the show.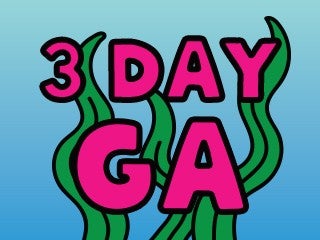 PHOTOS
WHAT'S NEW