Decades Rewind
Date/Time
Venue/Location
Feb 24
7:30pm - 9:45pm
Harrison Opera House
160 E Virginia Beach Blvd Norfolk, VA 23510
Ticketing Information:
Ticketmaster $34-$48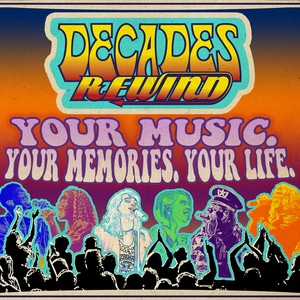 ---
THIS EVENT HAS ALREADY OCCURRED.
IT ENDED ON February 24, 2017 9:45 pm
If this is a recurring event, then we might not have the new upcoming dates in our system. Please check back later or make sure that this event has not changed names or ended permanently.
EVENT DESCRIPTION
Decades Rewind is a new theatrical music journey, unlike anything you've seen or heard before, rewinding through 30 years of the greatest music of our times! Get ready to have your memories brought to life by an 8 piece band and 6 brilliant vocalists; surrounded by concert stage lighting, poignant videography of American culture, and over 100 period specific costume changes of the 60's, 70's and 80's. Decades Rewind will have you singing and dancing in your seats on a magical musical extravaganza you won't ever forget.
---
WHAT'S NEW