Decades Rewind
Date/Time
Venue/Location
Feb 24
7:30pm - 9:45pm
Harrison Opera House
160 E Virginia Beach Blvd Norfolk, VA 23510
Ticketing Information:
Ticketmaster $34-$48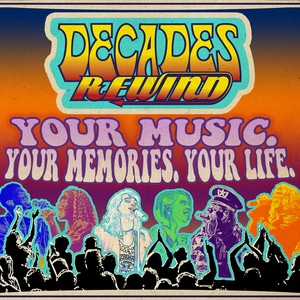 ---
EVENT DESCRIPTION
Decades Rewind is a new theatrical music journey, unlike anything you've seen or heard before, rewinding through 30 years of the greatest music of our times! Get ready to have your memories brought to life by an 8 piece band and 6 brilliant vocalists; surrounded by concert stage lighting, poignant videography of American culture, and over 100 period specific costume changes of the 60's, 70's and 80's. Decades Rewind will have you singing and dancing in your seats on a magical musical extravaganza you won't ever forget.
---
PHOTOS
WHAT'S NEW
This is a bit long but love sharing emails we receive from our fans!
Wanted to let all of you know how much fun we had when you were at the Paramount Theatre in Cedar Rapids last weekend. Neither of us had heard of your production before (and we are spreading the word!!) but we will absolutely be there if you ever come back! All of you are so talented and it was a blast to sing along with so many of the songs that we knew!
(hope you had the chance to go up the rickety old cable car when you were in Dubuque!!) ... See MoreSee Less
It was such a pleasure meeting Stephanie and Val at the show. Thank you for your kind words and welcome to the Decades Rewind family!
They are coming to N.E. Ohio....Akron and Cleveland in April......
VABEACH.COM is proud to be partnered with the best booking company in Hampton Roads… ROCKSTAR BOOKING. If you want to be booked, they are the team to do it!  Call them today.
RECENT
THINGS TO DO

ARTICLES