International Conscious Connections Holistic and Spiritual Art Expo
THERE ARE NO EVENT DATES FOR THIS EVENT. THE EVENT HAS EITHER ALREADY OCCURED, OR WE DO NOT HAVE ANY UPCOMING DATES FOR THE EVENT.
Ticketing Information:
TICKETS AT THE DOOR.
Public: $8. WEEKEND PASS: $12.
Military & Senior Citizens (65+): $5.
Wesleyan Students: $5 Children Under 10: Free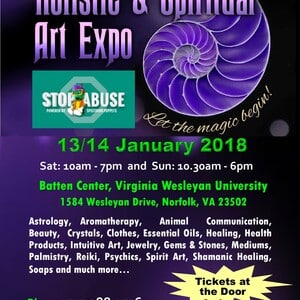 ---
EVENT DESCRIPTION
LET THE MAGIC BEGIN…
Enjoy an exciting, enlightened two days at our 4th Holistic & Spiritual Art Expo, at the Virginia Wesleyan University, on the border of Virginia Beach and Norfolk. Learn from over 90 exhibitors, mediums and psychics. Attend one of our FREE inspirational and inter-active Lectures or book yourself a Psychic Reading and see what 2018 will bring you.
Discover the latest in holistic health, learn how to harness your psychic abilities, and become motivated to follow your dreams and more.
We are pleased to partner with the STOPABUSE organization to prevent child sexual abuse through education, detection and referral. We will be donating to them to help save children from this form of abuse. LET'S DO THIS TOGETHER, protect and empower our children.
Aromatherapy, Astrology, Alternative Therapies, Animal Communication, Aura Reading, Crystals, Feng Shui, Healing Arts, Healing Oils, Intuitive Arts, Jewelry, Mediums, Metaphysics, Natural Healing, Palmistry, Psychics, Readings, Reiki, Spirit Art, Shamanic Practitioner, Drumming Circle and Much More….
---
---
PHOTOS