Taste of Ghent
Date/Time
Venue/Location
Mar 29
7:00pm - 10:00pm

THIS SPECIFIC EVENT INSTANCE EITHER
DOESN'T EXIST OR HAS ALREADY OCCURRED
Ticketing Information:
Tickets: $35.00 per person (cash bar available) till February 18th, 2018 ($40.00 after, $45.00 day of)
What: A tasting of restaurants from the Ghent, Norfolk area. Culinary creations that showcase our areas ever growing food scene. Mystery Basket Chef Competition, featuring items from the school lunch program. Live and silent auction items from various restaurants, businesses, etc. Cash bar showcasing local breweries. And much, much more...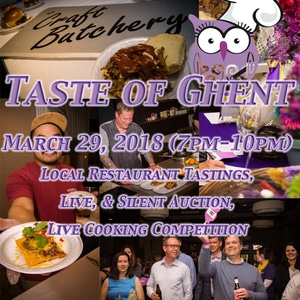 ---
THIS EVENT HAS ALREADY OCCURRED.
IT ENDED ON March 29, 2018 10:00 pm
If this is a recurring event, then we might not have the new upcoming dates in our system. Please check back later or make sure that this event has not changed names or ended permanently.
EVENT DESCRIPTION
2018 Taste of Ghent
To benefit the W.H.Taylor PTA
2017 Attendance 400+ with 2018 expected to be 600+
2017 Raised $12,000+
W.H.Taylor Elementary
W.H. Taylor Elementary School, located in the West Ghent neighborhood of Norfolk has a long history of ensuring all students are able to participate in all activities, regardless of their ability to pay. From school field trips and cultural arts programs to the annual Fall Carnival and Spring Fun Run, Taylor is a place that stresses inclusivity for all. With this in mind, the PTA often sponsors children in need for these events. W.H. Taylor's student body is the picture of diversity, both educationally and socio-economically. Our students arrive at Taylor with vastly different personal experiences and backgrounds. The unifying goal of the faculty, staff, and parents is that once that child is a Taylor student, they have the very best educational experience possible. Our teachers and staff have created a warm and caring environment where students are not only challenged educationally but also supported emotionally.
Taste of Ghent and Auction
This will mark the first year of our newest signature event, The Taste of Ghent. This special annual event will bring the W.H.Taylor family and the community together, through the amazing culinary artistry of our local restaurants. An ultimate tasting of some of the most incredible food our area has to offer. Local Chefs and Restaurants will come together to show their support for the Faculty, Staff and Students of W.H.Taylor Elementary. Each restaurant will sample some of their unique and palate pleasing creations. As the definitive exclamation point to Ghent's assertion as a culinary destination, this event will illuminate what we have known for years to all of Hampton Roads. Our growing and successful culinary scene is primed and ready for an even bigger 2018.
In addition, The Taste of Ghent will feature a live Kitchen Ambush Chef competition pitting Chefs against a mystery basket of nutritional offerings from our school's lunch program, incredible items in our live and silent auctions, and an amazing time to be had by all enjoying our area's top restaurants. Most of all, it will support the tremendous work of the W.H. Taylor PTA supporting our communities children both today and in the future.
Why we need your support…
In this time of limited funding and constant budget constraints the W.H. Taylor PTA has focused their fundraising efforts to make certain the Faculty and Students have access to the very best in educational tools and resources. Each year, the PTA reimburses each classroom and resource teachers up to $200 towards materials for their classrooms, and $500 each towards the P.E. and Music Programs. This year the PTA has provided $2,500 for online subscriptions to educational websites that teachers not only use in the classroom but also accessible to students and parents at home. The PTA provides $750 to each grade for cultural arts activities, including field trips and on campus programming. Other PTA sponsored events include: Fall Carnival, Spring Fun Run, Halloween Parade, 4th & 5th Grade Winter Ball, Father/ Daughter Dance, Mother/ Son Outing, and various Staff Appreciation events.
The needs of the students increase each year, which parallels the costs. Our gifted students need access to resources that will inspire and challenge them academically and developmentally. Robotics equipment, 3-D printers and other cutting-edge technology would enhance and expand the emerging STEM focus in elementary education.
Our students also desperately need safer and more updated playground equipment. While they school has a tot-lot, there is no true playground on the grounds of the school. The P.E. and recess fields are predominantly sand and dirt that becomes completely unusable after any inclement weather. In times of stressed state and local budgets "luxuries" like safe playground equipment and usable athletic fields fall under the responsibility of PTAs. The proceeds from this unifying event will go to meeting the needs of our Teachers, Staff, and most importantly, the students. Your support and help is the difference in making our children's dreams into a reality.
How you can help and be a part of the Taste of Ghent
Donations to the Silent and Live Auction items – Gift cards, specialty items, tickets, collectibles, art, the possibilities are limitless.
Become a participating Restaurant exhibitor – Showcase your restaurants food and vision to your target audience and beyond. Serve up a taste of your menu to 250+ attendees in an amuse-bouche style offering. This will drive exposure and guests to your restaurant.
Compete as a Chef in the Culinary Mystery Basket Competition – Flex your culinary prowess competing against two other local Chefs for top honors.
Donate funds to sponsor the event AND attend the event!
When: March 29th 2018
Time: 7pm till 10pm
Where: Wyndham Garden Downtown Norfolk, 700 Monticello Ave, Norfolk, VA 23510
Dress: Cocktail attire
Tickets: $35.00 per person (cash bar available) till February 18th, 2018 ($40.00 after, $45.00 day of)
What: A tasting of restaurants from the Ghent, Norfolk area. Culinary creations that showcase our areas ever growing food scene. Mystery Basket Chef Competition, featuring items from the school lunch program. Live and silent auction items from various restaurants, businesses, etc. Cash bar showcasing local breweries. And much, much more…
---
---
PHOTOS