Broseph E. Lee
About the Band
Category:
Band
Music Genre:
Country, New Country
Broseph E. Lee is a big band with even BIGGER talent!
There is no doubt that this six-piece band from the Midwest are making a name for themselves in country music. Opening shows for Dustin Lynch, Cole Swindell, Old Dominion, A Thousand Horses, and many more, Broseph E. Lee is setting a high standard for excellence through their hard work and fierce "never slow down" attitude.
With a total of seven members in the crew (including Tour Manager - Mike Shoults), you can find these guys working hard seven days a week. They will be the first to tell you that the last two years have been all about building their touring business, perfecting their show and creating new music. As a group, Broseph E. Lee takes a huge amount of pride in being able reach new fans by traveling the nation in their band-funded sprinter van properly named "Van Morrison"! Though the open road seems to be their home, the guys love being able to call Nashville, Tennessee their second home where they are honored to be one of the very few house bands to frequent the World Famous Wildhorse Saloon.
"Every one of us has come a long way since the beginning," explains Brock Jones, lead vocals. "I started Broseph E. Lee back in 2011, basically just as a platform for me and my buddy to write songs and play for free beer in our hometown bar. Since then, it has really grown into a bigger operation. The line-up we have now has been together for about two and a half years. We started writing and jamming as a group in college and we haven't really stopped since." When asked about the meaning of the name Broseph E. Lee, Jones says: "We get asked about that ALOT. The truth is…Broseph is just another word for a brother or a best friend. We are all best friends on a never ending tour together, so we figure, why not just call ourselves Brosephs!"
The guys in Broseph E. Lee bring a high energy, rockin' country party every time they take the stage. Their live show is a product of the melting pot of music that influenced them as youngsters- from country to rock to pop. Legends like The Beatles, Johnny Cash, and Garth Brooks quickly get brought up when these guys discuss developing their own original sound. With the release of their 2015 EP, Fill 'Em On Up, Broseph E. Lee's music has been well-received, landing a Music Row TOP 40 Single with "Right Where She Wants Me" (37) and a Music Row TOP 60 Single with "Fill 'Em On Up" (58).
Broseph E. Lee's loyal fan base, known as #BroNation, has continued to grow throughout their nonstop 2016 Summer tour. The group's recent release "Night Like Tonight" is giving fans a sneak peak of what to expect later this year. "We will be recording an entire new EP during every free minute we have off in Nashville" says Jones. Expect a HUGE national release from these hustlers in 2017!
Brock Jones: Acoustic Guitar/Lead Vocals
Brooks Boyer: Electric Guitar
Sean Halbrook: Bass/Vocals
Aaron Larsen: Drums
Chris Yost: Electric Guitar/Vocals
Chace McNinch: Keys/Vocals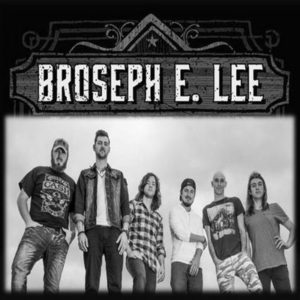 or call 757-460-9000

Where They Are Playing
Oh Snap! We do not know of any live music events where this band is playing.