Blue City Bombers
About the Band
Category:
Band
Music Genre:
60's, 70's, Blues, Classic Rock, Funky, Motown, Originals, R&B, Reggae, Rock
Geoff "Lip" Danielik: Guitar, vocals
Geoff recorded his first album in 1975 and began touring with various bands in 1977. He recorded and released several independent singles from 1978 through 1985 with his bands in New York City. He signed with RCA records (Midsong in the USA) in 1979 with "The Now" – an international release. They toured extensively and recorded two albums. He had a successful jingle company and recording studio – Alter Ego Productions in the 1980's. He has composed movie music and songs for other artists throughout his career. In the 2000's, several of Geoff's New York City projects were "discovered" and released in the USA, Japan, Finland, Sweden and Italy. He continues to write and perform.
Val Necko: Guitar, vocals
Val grew up in Asheville and got his first guitar at 14 years old. He was schooled in the blues and rock of his generation, influenced heavily by Albert King, Freddie King, Eric Clapton and Duane Allman. After moving to Greensboro in 1981, he has been performing in multiple local bands in the Triad area and participated as a session guitarist and producer for other artists CD projects. His deep love of the blues has now been channeled with new enthusiasm through this current endeavor with his Blue City Bomber brothers!
M.J. Rahn: Harmonica, percussion, vocals
M.J. grew up in Cincinnati in the 50s, 60s, and 70s. He started learning the guitar at about 13 and the harmonica at 15. Later, he also added bass. He became particularly interested in the blues in his teens and also jazz. Began jamming around and sitting in at various coffee shops and clubs while in high school and at the University of Cincinnati. Played harmonica in the pit orchestra for the musical "The Ballad of Billy the Kid" in 1974. Had a stint with the band of regionally renowned boogie woogie piano player and singer Big Joe Duskin. After moving to Greensboro, NC in 1994, M.J. became a regular at the weekly blues jam hosted by the Ladies Auxiliary. Later played in several different years of the Piedmont Blues Preservation Society Blues Challenge in a variety of acts, including the Big Ron Hunter Band. While living in Boston in '98-'99, M.J. did some studio session work on harmonica for rock and blues bands. M.J. was the Friday night Jazz DJ on WNAA from 2000-2001. Formed his own band "Mandatory Overtime", in 2000 with his wife, Dr. Mamie Francis (keyboards and sax), and current Blue City Bomber member Geoff Danielik. They released one album of original material, "Weathering the Storm", in 2002.
Ken Simonds: Bass
Ken picked up bass as a hobby at 16 but didn't venture out to play his first gig until he was 31! He quickly grew passionate about the instrument and has been an active player in several local bands on the scene for the past 24 years. In his bass playing, Ken delivers a solid foundation, locking in the pocket with the drummer, often adding a melodic touch. He prides himself on outstanding tone, playing exceptional instruments and amps, propelling the quality of sound for the whole band. His bass playing credo: If it sounds good, it feels good!
David Wheeler: Drums, vocals
Dave has been playing drums since age 11, starting in Greensboro, and then on through the east coast, west coast and two brief tours in Europe in 1992 and 2001. Recording and live performance are two of his favorite things and when the band connects with the audience he's happiest. Influences include, John Bonham, Tommy Aldridge, Keith Moon, Dave Grohl and Taylor Hawkins.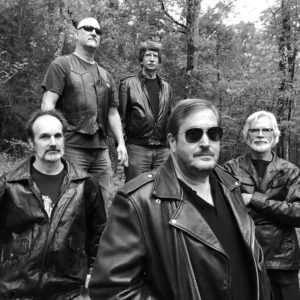 or call 757-460-9000

Where They Are Playing
Oh Snap! We do not know of any live music events where this band is playing.