Blow
About the Band
Category:
Band
Music Genre:
Rock
"BLOW" is a Virginia Beach power trio that transcends their rock influences and brilliantly creates songs that are a banquet for the soul. Armed with instruments, "BLOW" is a lethal combo of rock tinged with jazz, soul, and explosive jams! Each member of "BLOW" is a master of their instrument and an accomplished musician in their own right. Daniel Kathalynas (aka Dan Kath) explodes out of the gate with passionate guitar and ruthless vocal tactics that take his songs in a fresh and creative direction. From the NYC bands "Cool Wood Package" and "Bovine Freemartin", Dan has loads of experience elevating his six-string to mighty heights and pushing the vocal envelope. Dave Greene brings old school experience with a jazz/fusion rock background. Dave has played nationally in "Sky King", "Service Elevation", and "Ruby Clipper". Out to funk your punk and slam your jam, Dave has the chops to keep "BLOW" ticking like a time-bomb. Ray Varga is responsible for anchoring the grooves to this hard rockin' trio. Ray is highly regarded as a local bass hero from the bands "Electric Sky" and "Creek". Being the spine of the band, Ray holds it all together with his thunderous 4-String. "BLOW" is a lethal combo, small but mighty...after all "How many licks does it take to get the center of a Blow Pop?". Book "BLOW" for a bombastic rock show tonight!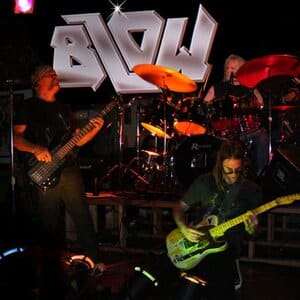 or call 757-460-9000

Where They Are Playing
Oh Snap! We do not know of any live music events where this band is playing.
VABeach.com Custom Photos