10 Spot
About the Band
Category:
Band
Music Genre:
Acoustic, Alternative, Blues, Christian, Classic Rock
Finding a band that can play everything from the Motown hits, classic rock and the danceable funk of the Sixties and Seventies to the rock hits of the Eighties and Nineties, and rock and hip-hop hits of today - while being able to fit in with the mood of events ranging from weddings to corporate events to fraternity parties – is almost impossible. 10 Spot fits that bill perfectly. Seamlessly combining classic hits from the Temptations and Marvin Gaye into setlists with songs by the Black-Eyed Peas and Gnarls Barkley, 10 Spot has emerged as the must-have event band that can do it all. Formed by Gray Finnegan (guitar, vocals) in 2002, 10 Spot has since performed for hundreds of satisfied clients from Vermont to the Carolinas.
10 Spot is most often booked as a five-piece band featuring two guitars, bass, drums, and keyboards, with the two guitarists and keyboard player sharing vocalist duties throughout the evening. The band can also be booked with a three piece horn section for an additional fee.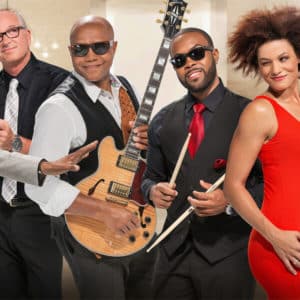 or call 757-460-9000

Where They Are Playing
Sunday, July 14, 2019
6:00 pm - 10:00 pm
Friday, August 23, 2019
7:00 pm - 11:00 pm