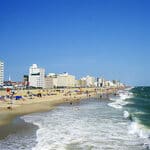 Vacation ownership is the fastest growing segment of the hospitality industry. Many people have single or multiple timeshares and sometimes the timeshares are in many different places all over the world.  Not to worry, you don't have to go all over the world to find a good timeshare. Virginia Beach has timeshares available for you to own.
A popular choice among some Virginia Beach timeshare owners is to exchange, rent or sell their Virginia Beach timeshare location if they no longer have a need or a use for it.
Sellmytimesharenow.com is the place to go if you are looking buy or sell a timeshare.  Find exotic timeshare locations all over the world or find a timeshare right here in Virginia Beach.
Is vacation ownership right for you and your family? Sell My Timeshare Now can try to provide you the right answers.